Jose Saldivar has dedicated his professional career to helping people in need of a quality and affordable defense.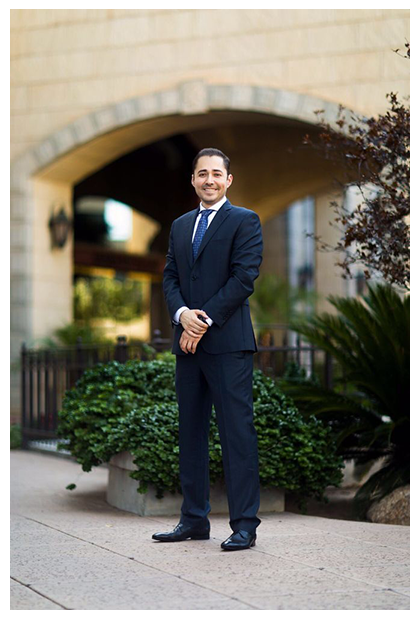 Jose Saldivar began his legal career working for a large criminal defense firm in their Vehicular Crimes unit. There, he spent seven years defending clients charged with serious criminal charges specializing in DUI defense, Manslaughter defense and Aggravated Assault defense. Jose Saldivar garnered rare training and experience practicing in numerous courts throughout Maricopa County. 
Jose Saldivar has led a successful Criminal Defense firm the last 8+ years, covering all of Maricopa County.  In total, he has successfully defended over 100's criminal cases in his career.  Jose Saldivar is rated 10 out 10 on Avvo.com, is the recipient of the Super Lawyers Southwest Rising Star Award for the last three years and acknowledged as a top 100 Trial Lawyer by National Trial Lawyers, among other accolades. However, hishighest accomplishment is her numerous positive client reviews from former clients and her representation within the legal community.
Outside of practicing law, Jose Saldivar enjoys traveling with his family and outdoor activities.
Whether it is you or your friends facing criminal charges, you need an experienced lawyer to represent you. We at Phoenix Criminal Attorney Law Firm are dedicated towards ensuring the best possible outcome for charges brought against you. We specialize in criminal defense law, and we have the knowledge and resources needed to ensure that you end up with a favorable ruling. Although we are based in Phoenix we also serve clients I neighboring cities and throughout the state of Arizona.
Most law firms will assure you that the attorney you meet with is the same lawyer that competently handles each phase of your case, but only end up partnering you with an "appearance attorney." This is not the case with Phoenix Criminal Attorney since we prioritize all cases that our clients bring to us, no matter the charge or size of the case. To ensure this, our attorneys will always be on call to answer any queries that you may have pertaining to your case.
Since starting out, we have established an enviable reputation for using our expertise to ensure that you get the best legal representation. Our team will give you 24-hour access and therefore, you can discuss details of your case with us when something of importance comes up in your case or your life. Our prime focus is to fight for your freedoms and your given rights in order to secure our clients the best possible outcome regardless of the magnitude of the case you are facing.
Utmost Professionalism
Whenever you bring a case to us, we will put ourselves in your shoes since we take each individual case with a personal approach. Phoenix Criminal Attorney has a proficient research team that is dedicated towards finding all the necessary facts about your case, this goes a long way in fighting for a favorable ruling. We value each client and take time to understand each individual case, your concerns, and expectations pertaining to the outcome.
Starting with the initial consultation, we will offer expert advice while also keeping you updated on the status throughout the case. It is our utmost commitment to serve your interest first. Our dedication towards fulfilling your mandate is what has defined us over the years. Our guiding philosophy is to provide unmatched legal representation at an affordable cost.
Impeccable Track Record
What sets us apart from other law firms that you might be evaluating is the fact that we always strive to obtain the best results for our clients. Our aim has always been to have your case dismissed, and to have you acquitted. During the pre-trial and trial phase, we do everything possible to secure victories for you or your loved one.
We have carved a niche for ourselves by having the ability to file the most suitable pre-trial motions. This ensures that evidence is excluded based on unlawful searches/seizures. We will also strongly challenge the credibility of witnesses who are to testify against you as an attempt to secure you an early victory. In most cases that we've handled, prosecutors have been forces to either drop their cases or seek an out-of-court settlement.
We have helped hundreds of Arizona residents to avoid convictions in cases related to DUI, domestic violence, petty and grand theft, battery, and other serious offences. More often than less, we use our impeccable negotiation skills to obtain charge and sentence reductions. Unlike other firms which avoid some types of cases, we have the capacity to handle whatever case that you will present to us ranging from serious felonies to minor misdemeanors.
We Take What We Can Handle
As mentioned above, once you hire us, you will be assigned a competent attorney who will personally represent you throughout the entirety of your case. This is unlike in other law firms where lawyers typically get swamped with too many cases to the extent that they can't competently represent their clients. At Phoenix Criminal Attorney, you will be assigned a lawyer who is skilled to handle your case till the end.
Besides the personal attention that we offer you, we also strive to treat our clients with utmost respect and dignity by respecting their wishes. We understand that the success of our firm is built on the trust that you and other clients have accorded us throughout the years. Therefore, our goal is to replicate this trust by offering you competent representation and encouraging your input along the way.
We Are Here For You
We at Phoenix Criminal Attorney are always at hand to answer to any queries that you might have about your case. We know that no one intends to get arrested and therefore, we are always at your beck and call whenever you find yourself on the wrong side of the law. You can always call us at any time and we will stand by our commitment to provide every potential client a free and no-obligation consultation.
We keep every detail of our clients' cases confidential so that our defense is built without any loopholes. As soon as you contact us, we will constitute a defense team to start reviewing your case so that we ultimately deliver a solid defense. Aside from calling us to speak about your case, our offices in Phoenix are always open for anyone who prefers in-person consultation.